issues

Contact us for wholesale orders (5 or more copies).
Institutional rates are twice the listed price. Please contact with inquiries.
Buy FO A RM 5 (autonomy) and FO A RM 4 (topography) together for only $23 ($4 off the cover price!) click here:

Galiola - Collected Works for Radio 1967 - 2000 by Arsenije Jovanovic
79 min. CD with full-color digipack sleeve and 12 page booklet, $10

Over the last 40 years, Serbian radio-art composer Arsenije Jovanovic has developed a deeply personal style of sound art for radio broadcast. His compositions are imbued with natural environments and human-centered activities. They feel rooted in place - whether real, imaginary, remembered or dreamed. Weaving voices, instruments, field recordings and manipulated sound, Jovanovic creates vivid narratives without a story. He takes full advantage of sound's capability for seamless morphing and far-flung association.
FO A RM Projects, in collaboration with and/OAR Records and Alluvial Recordings, is pleased to present this 80 minute collection of sound works, newly remastered and accompanied by extensive notes by the composer.
Tools of Mind, edited by Matt Marble
FO A RM special issue no. 1
52 pp., 8 x 9", saddle-stitched, hand-stamped cover, $7
numbered limited edition of 150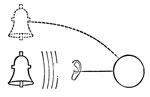 The works gathered in this book reflect particularly the resource of their own path
of origin - the mind. Each contribution offers a model, design, plan, or developmental process. The model becomes a message, a tool of action and organization, while others attempt to reconstruct or represent manifestations of the past, in order to articulate the nature of their enactment. The model becomes an Idea, a tool of understanding. Conjoining performance scores by international artists with diagrams from diverse fields of thought, this book takes form as mosaic imagery : a collectivized tool of intuition. (From the introduction by Matt Marble)
Artists include: Heather Watkins, Peter Ablinger, The Rebar Collective, David Abel, Seth Cluett, Pauline Oliveros, Mark Owens, Dan Senn, Jonas Baes, Michael Pisaro, Yasunao Tone, Phillip Schultze, Tara Rodgers, Giancarlo Toniutti, Scott Smallwood, Christian Keston, Matt Marble, Craig Sheperd and Adam Overton.
FO(A)RM no. 5 (autonomy)
156 pp., 7 x 9", perfect-bound, full-color cover, $15
(with exclusive CD)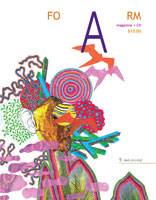 preview the first 8 pages (pdf)
We are very excited to present FO A RM no. 5, a special sound-art issue with an exclusive full-length CD complementing the writings. (Autonomy) is an examination of sound and freedom, a look at how artists and audiences take responsibility for their place in the world. Topic editor and composer Michael J. Schumacher asks - "How can we 'save' ourselves from the undermining forces of commercialization and homogenization by 'using' the system in place, but returning as little as possible to it?" From a variety of perspectives along the fringes, we probe this question and raise many others.

Including a special section on the great Filipino composer Jose Maceda, with rare writings and scores - an in-depth interview with Serbian radio artist Arsenije Jovanovic - writings by sound artists Giancarlo Toniutti, Francisco Lopez, Achim Wollscheid and John Duncan - notes on improvisation by Michael Bullock - a probe into musical autonomy in the armed forces - writings on a sound installation by physicist Luis Lopez with composer Barbara Held - a profile of Diapason sound gallery (NYC) - a poetic essay by musique concrete composer Lionel Marchetti - the early scores of Robert Ashley examined by avant-garde cellist Alex Waterman - experimental poetry by Paolo Javier, Steven Zultanski and Travis Nichols - art by Jan Anderzen (of Kemialliset Ystävät) and Sreshta Premnath - and much more!
Plus, in collaboration with Sedimental Records, an amazing 80-minute CD with music by Jonas Baes, Barbara Held, Arsenije Jovanovic, Jose Maceda and Michael J. Schumacher!
FO(A)RM no. 4 (topography)
144 pp., 7 x 9", perfect-bound, full-color cover, $12
(with exclusive CD: Ghosts and Others by Phill Niblock)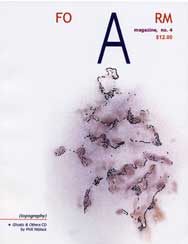 preview the first 8 pages (pdf)
FO(A)RM no. 4 (topography) treats the movement over, through or across a landscape and the act of documenting, utilizing or noticing an interaction with that landscape. It concerns a mapping of the points between self and space - traversing and/or transforming natural and urban environments. Within these pages, intelligent perspectives find fertile soil.
Included within are essays by sound theorist Douglas Kahn (Noise Water Meat) on spherics and and cultural theorist Steven Connor (Dumbstruck) on listening to sound-art, lengthy interviews with minimalist luminary Phill Niblock and Whitney Biennial artist Julianne Swartz, revealing articles on sound-installation projects by composers Marc Behrens and Eric La Casa, conceptual artist Sreshta Premnath's carbon-paper traces of lived experience, public interaction and social sculpture by Swiss artist San Keller and Portland-based sculptor David Eckard, composer/improviser Jean-Luc Guionnet's series of "Linescape" drawings, an historical essay on the holy Wu-T'ai mountains in 11th century China by Eliot Weinberger, Charles Stein's striking visual language works, poems by William Fox, Haleh Hatami, André Spears, Jibade-Khalil Huffman, and Rachel Daley and a delicately vibrational cover by sound-artist Seth Cluett.
(Topography) also includes, in conjunction with Sedimental records, the never-released and radically different sound-work by Phill Niblock, Ghosts and Others. This CD is only to be found in FO(A)RM.
FO(A)RM no. 3 (duals & doubles)
112 pp., 7 x 9", perfect-bound, full-color cover, $7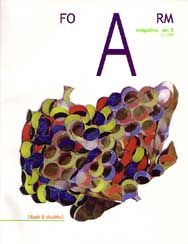 preview the first 8 pages (pdf)

Issue number three circles around the structural and psychological notions of dualism and pairing. The idea is approached from all angles, both literal and indirect, utilizing a multitude of means.
(Duals and doubles) includes composer and installation artist Maryanne Amacher's 1977 paper on the "Perceptual Geography" of otoacoustic emissions, a conversation with William Lee detailing his frightening "tulpa" experiences, cinematic theorist John Pruitt's appreciation of the collage filmworks of Michele Smith, a photographic performance by Sreshta Premnath, Anthony Campuzano's obsessive language-based drawings, graphic works by TJ Norris, a performance-score collaboration between choreographer Sally Silvers and poet Kim Rosenfield, photographic double-exposures by Joseph Keppler, an essay by Holley Blackwell on (and in) twin sister secret language, two demonic ink-wash drawings by painter Suzanne Joelson, and three mirrored mixed-media works by Zach Harris, as well as poems by Jerome Rothenberg, Eric Baus, David Abel, Andrew Joron, Curtis Evans, Anne Blonstein and Bruna Mori.
FO(A)RM no. 2 (dis/embodiment)
80 pp., 7 x 9", perfect-bound, full-color cover, $7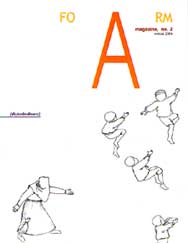 preview the first 8 pages (pdf)

Sold Out Our second issue considers notions of physicality as viewed through the lens of media, movement and politic. The faceless bodies cascading across the cover will enter the outline of a bowl, to define the skin of this idea.
Contents include filmic philosopher John Pruitt's essay on disembodiment in cinema, Brannon Ingram's nightmarish depiction of "Telerealism", politically urgent work by Leonard Schwartz and Jordanian poet Tahseen Alkhateeb, composer and improviser Renato Rinaldi's essay on the interpenetrations of place, language and sound along the Tagliamento river, a lengthy conversation between radical Catholic priest Paul Murray and poet Robert Kelly, David Abel's elegant poem "Frozen Sea", haunting line drawings and diagrams by artist Alina Grumiller, visual poems by Maryrose Larkin and Michael Basinski, a personal history of dance, photography and documentation by choreographer Linda Austin, and poems by Trey Sager, Judith Roitman and André Spears.
FO(A)RM no. 1 (utility)
52 pp., 8 1/2 x 9 1/2", saddle-stitched, textured paper cover, $6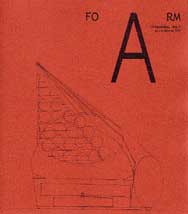 preview the first 8 pages (pdf)
Sold Out Our inaugural issue addresses the queries and quivers of function, skittering to establish a form that can become as it moves.
Offerings include Robert Kelly's "The Use of Use" and "Hymn to Use", a discussion of musical art and artifact by Italian researcher/composer Giancarlo Toniutti, instructional poems by mARK oWEns, diagrammatic drawings by 9-year old inventor Raymond Kennedy, ecstatic interventions of "Inexpressible Utility" by Holley Blackwell, a poetic investigation of typewriting drills and models by Ashley Edwards, a collection of essays by Shanghai high school students as compiled by their teacher, Jacob Mitas, historical research on the gypsy moth by Morgan Currie, Theodore Holdt's spastic, many-tounged "Overthrow of Cultural Ferment", noisician GX Jupitter- Larsen's hybrid mission-statement and an undaunted songly pollen-poem by Alicia Cohen. Also included are selections from each of the editors - two essays on music, voice and containment by composer/theorist Matthew Marble, considerations of listening and recorded culture by sound-artist Seth Nehil, and bold new poems by Joseph Bradshaw and Bethany Wright.